With the beginning of a new year, humans and pets are making resolutions together to change things up. On the top of everyone's list is getting in better shape. Eating better and exercising more is the backbone of successfully accomplishing this task. We've made a few suggestions to help guide your pet towards those goals. Here's to a lean and healthy 2013!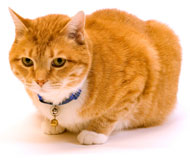 If your cat is starting to look like Garfield, a scheduled visit to your veterinarian may be needed. Noticeable signs of pet obesity include trouble getting up and down, reluctance to exercise, or fatigue from activity. There are several causes to obesity. The obvious troublemakers include overeating, lacking exercise and making poor choices in food/treats.

Maintaining an optimal weight range for your pet has numerous benefits. Keeping your pet fit can prolong your pet's health, while reducing and pushing back health problems like liver disease or osteoarthritis. Not only will your pet be more active, they'll be around longer to keep you company!

If your pet needs a boost in their path to losing large amounts of weight, supplements can help bring them back to optimal health. We suggest using products like K9 Lean Dog or Vetri–Lean Plus.

Pets deserve to get more from what they eat. They can do that with food supplements that provide additional health benefits to pets. Syner–G helps pets with digestion and nutrient absorption, while also helping with gas reduction, bloating, allergies and shedding. Prozyme products help your pet absorb more nutrients that are present in their food.